Just What do you Think You're Doing,

User

?
This is property of Doremy. Please Do Not Edit Unless you got Specific Permission. However, you may edit Grammar Mistakes and Other Minor Edits.
Jason
[[|250px]]


Jason's Cleaned Up appearance in Bakeria

Family

Attitude as Customer

Normal

Favorite Holiday

Easter (Most Games) Romano Wedding (Pastaria)
Jason Carlo Spotte is a guy who worked at Papa's Wingeria. His favorite food are blueberries. He likes playing basketball and uploading videos to YouTube. His wife is Amber. His favorite holidays are Easter (Most Games) and Romano Wedding (Pastaria). 
Bio
Jason is a man from Tastyville. He had a simple life, and worked at Papa's Wingeria. He met his wife, Amber, at an airport in Japan, and they fell in love, and later got married. They then moved to Farthenwood, Amber's hometown. They have 2 children, Piper and Lukas.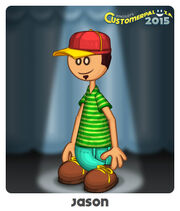 Orders
Pizzeria
Plain Pizza
Half Chroncometer
Cut to 4ths
Burgeria
Top Bun
Medium Patty
BBQ Sauce
Lettuce
Medium Patty
Bottom Bun
Taco Mia
Hard Shell
Pork Carnitas
Cheese
Nacho Cheese
White Rice
Mild Sauce
Freezeria
Large Cup
Blueberries
Strawberry Syrup
Smooth Blend
Whipped Cream
Blueberry Topping
Rainbow Sprinkles
Creameo, Cookie, Cherry
Banana, Gummy Onion, Mint Bar
Pancakeria
French Toast + Blueberry Mix
French Toast + Blueberry Mix
French Toast + Blueberry Mix
Blueberry Syrup
Maple Syrup
Blueberries
3x Butter
Burgeria HD
Top Bun
Mushrooms
Bacon
Onion Ring
Awesome Sauce
Lettuce
Medium Patty
Bottom Bun
Wingeria
Hot Doggeria
Pretzel Bun
Hot Dog
Sauerkraut
Mushrooms
Onions
Sport Pepper, Tomato, Sport Pepper
Pickle

Large Tangerine Pop
Large Cotton Puffs
Cupcakeria
Liner D
Blueberry Cake
Green/Green Frosting
Vanilla/Chocolate Drizzle
Rock Candy/Rock Candy (Rock Candy/Jelly Beans)
Strawberry Drizzle/- (Cotton Candy Drizzle/-)
Pastaria
Fettucine
Creamy Alfredo (Cathedral Carbonara)
Mozzarella Shreds
6x Prosciotto (6x Pickled Eggs)
Poppyseed Roll
Donuteria
Donut 1

Regular
Ring
Vanilla Icing (Lavender)
Rainbow Sprinkles (Jelly Beans)

Donut 2

Blueberry
Long John
Whipped Cream (Marshmallow Cheep Cream)
Powdered Sugar
Sugarplum Drizzle

Donut 3

Regular
Roll
Cinnamon Sugar
Vanilla Drizzle (Pink Lemonade)
(Wildberry Shake)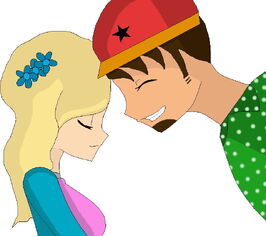 Cheeseria
Pretzel Bread
Marble Colby Jack Cheese (Sirecz Cheese)
Fried Egg (Pickled Eggs) 
Mushrooms
Sauerkraut
Bacon
BBQ
Light

Crinkle Cut Fries
BBQ
Bacon
Bakeria
Ladyfingers Crust
1/4 Key Lime, 1/4 Cheesecake, 2/4 Blueberry (1/4 Cheesecake, 3/4 Jellybean Jam)
No Top (Flower Bloom Crust)
Cherry Drizzle, Full Pie
Blueberries, Full Pie
Blueberry Pie-Tarts, 9, Outer Ring and Inner Circle (Cremebury Eggs)
Taco Mia HD
Azul Ranch Taco (Speckled Taco)
Pork Carnitas 
Cheese
Queso Blanco
White Rice
Lettuce (Spring Coleslaw)

Blue Corn Chips
Guacomole
Doremy Sweet

's FCs
Major FCs
(Click to Expand/Hide)
Minor FCs
(Click to Expand/Hide)
Touhou FCs
(Click to Expand/Hide)
Ad blocker interference detected!
Wikia is a free-to-use site that makes money from advertising. We have a modified experience for viewers using ad blockers

Wikia is not accessible if you've made further modifications. Remove the custom ad blocker rule(s) and the page will load as expected.