Javier is a guy who first appeared in Papa's Burgeria. He also eats a lot.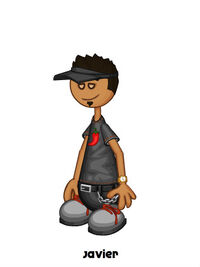 Orders
Burgeria: Bun, Welldone Patty, Mustard, Welldone Patty, Mustard, Medium Patty, Pickle, Bun.
Taco Mia: Pita, Steak, Guac, Guac, Verde Sauce, Diced Onions.
Freezeria: S, Chocolate Syrup, NBC, Choco Whip Cream, Choco Syrup, Choco Chips, x2 Creameos, x1 Cookie.
Pancakeria: ABSENT
Wingeria: x3 Honey Mustard Strips, x6 Celeries, x3 Carrots, Ranch Dip, Awesome Sauce.
Hotdoggeria: Pumpernickel Roll, Cheddarwurst, Kethcup, Mustard, x2 Sport Peppers, x1 Tomato, Bacon, Pickle. L Dr. Cherry, M Cotton Puffs
Cupcakeria: Coming Soon
Ad blocker interference detected!
Wikia is a free-to-use site that makes money from advertising. We have a modified experience for viewers using ad blockers

Wikia is not accessible if you've made further modifications. Remove the custom ad blocker rule(s) and the page will load as expected.