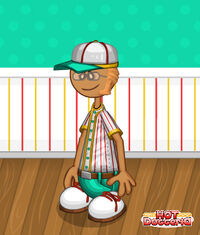 Jay Jay is a Shy Guy who works in a quiet Library. He first appears in Papa's Taco Mia. He created the Freezeria and the Hotdoggeria Uniforms when he worked on a Clothing store, but he quit because of an overload of work
Orders
Taco Mia: Pita, Beef, Cheese, Guac, Pinto Beans, Brown Rice, Sour Cream.
Freezeria: L Cup w/ Blueberries, Rainbow Sherbet, Smooth, Choco Whip Cream, Chocolate Syrup, Sprinkles, Blueberry Syrup, Banana (left).
Pancakeria: x2 Pancakes, Cinnamon, Berries, Cinnamon, Bacon Waffle, x2 Strawberries, x5 Butter Pads. L OJ w/ Ice.
Wingeria: 4 Medium Shrimps, 4 Garlic Boneless, 12 Celeries, 6 Celeries, x2 Awesome Sauce, x1 Kung Pao.
Hotdoggeria: Hotdog in a Pretzel Bun, Ketchup, Mushrooms, Mustard, Fajita Veggies, Ketchup. M Diet Fizzo, S Red Hot Popcorn.
Burgeria To Go!: Bun, Jalapeños, Cheese, Rare Patty, Ketchup, Jalapeños, Lettuce, Bun.
Ad blocker interference detected!
Wikia is a free-to-use site that makes money from advertising. We have a modified experience for viewers using ad blockers

Wikia is not accessible if you've made further modifications. Remove the custom ad blocker rule(s) and the page will load as expected.