Just What do you Think You're Doing,

User

?
This is property of Doremy. Please Do Not Edit Unless you got Specific Permission. However, you may edit Grammar Mistakes and Other Minor Edits.
Jeffery is the bro of Angie. He hates spicy things, unlike Angie and Peggy. He is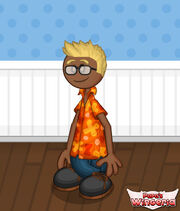 married to Marie. He is the CEO of
The Fizzo Soda and Popcorn Company
. He works with
Luis
,
Naomi
,
Matthew
, and
Tennyr
. His favorite holiday is Thanksgiving.
Orders:
Pizzeria: 12 olives all around, Cook 1/4, Cut into 4ths
Burgeria: Bun, Mustard, Bun, Mayo, Well-Done Patty, Mustard, Bun.
Taco Mia: Soft, Steak, Tomato, Black Beans, Pinto Beans, Tomatoes.
Freezeria: Small Cup, Nutty Butter Cups, Rainbow Sherbet Syrup, Chunky, Whipped Cream, Banana, Cookie
Pancakeria: Pancake, Whipped Cream, Pancake, Whipped Cream, Pancake, Whipped Cream, L Coffee, Cream.
Wingeria: 4 Honey Mustard Wings, 12 Carrots, Blue Cheese Dip
Hotdoggeria: Hoagie Roll,Hot Dog, Ketchup, Relish, Onion, Onion, Relish, Ketchup, Bacon. L Purple Burple w/ M Candy Jack.
Cupcakeria: Liner D, Confetti Cake, Cupcake 1: (Light) Green Frosting, Lollipop Bits, Lollipop Bits (Autumn Leaves Sprinkles), 3 Nutty Butter Cups (Harvest Stripe Cookie), Cupcake 2: Deep Purple Frosting, Chocolate Chips (Autumn Leaves Sprinkles), Chocolate Drizzle (Pumpkin Pie Drizzle), Marshmallow on Top (Chocolate Acorn.)
Pastaria: Spaghetti (Harvest Tortellini), Papa's Marinara (Pumpkin Pomodoro), Black Pepper (Crushed Croutons), 2 Shrimps, 2 Meatballs, 2 Chicken (Roast Turkey), 2 Onions, Garlic Breadstick
Donuteria: Donut 1: Vanilla Long John (Acorn), Red Icing, Blueberry Custard (Pumpkin Pie Filling), Sprinkles, Chocolate Chips, Donut 2: Vanilla Round, Chocolate Icing (Cocoa Powder), Boston Cream, Mini-Marhsmallows (Autumn Leaves), Vanilla Drizzle (Fudge Swirl Drizzle), Donut 3: Chocolate Ring (Acorn), Powdered Sugar (Cocoa Powder), Crushed Peanuts, Sugarplum Drizzle (Candy Corn Drizzle)
Cheeseria: Pretzel Bread (Pumpkin Bread), Marble Colby Cheese (Cheese Ball Spread), Bacon (Stuffing), Sauteed Onions, Olives, Grilled Chicken, Awesome Sauce (Gravy), French Fries with BBQ Sauce
Doremy Sweet

's FCs
Major FCs
(Click to Expand/Hide)
Minor FCs
(Click to Expand/Hide)
Touhou FCs
(Click to Expand/Hide)
Ad blocker interference detected!
Wikia is a free-to-use site that makes money from advertising. We have a modified experience for viewers using ad blockers

Wikia is not accessible if you've made further modifications. Remove the custom ad blocker rule(s) and the page will load as expected.