WARNING!
This page is made by XxBlazingDragonxX. Do not edit without permission.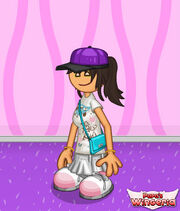 Jenna is a teenager who is the daughter of the director, John. Her debut was Hot Doggeria and her orders are usually small. Jenna has always wanted to be a chef at Cupcakeria but her dad says that making cupcakes is "innappropriate." She is absent in Cupcakeria because of her dad's "Cupcake Issues" with her.
Orders
Hot Doggeria
Regular Bun
Cheddarwarst
Salsa
Ketchup
Medium Dr. Cherry
Medium Cotton Puffs
Ad blocker interference detected!
Wikia is a free-to-use site that makes money from advertising. We have a modified experience for viewers using ad blockers

Wikia is not accessible if you've made further modifications. Remove the custom ad blocker rule(s) and the page will load as expected.