Just What do you Think You're Doing,

User

?
This is property of Doremy. Please Do Not Edit Unless you got Specific Permission. However, you may edit Grammar Mistakes and Other Minor Edits.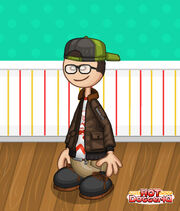 Jeremy is a teenager who lives on Calypso Island. He is a surfer-in-training. He first appeared in Papa' s Freezeria. His favorite holiday is the Summer Luau
Orders
Freezeria: medium cup, strawberries, chocolate syrup, smooth, whipped cream, tropical charms, cherry
Pancakeria: 2 pecan waffles, cinnamon, syrup, 6 strawberries, Small Oj with ice
Wingeria: 2 teriyaki wings, 8 red peppers, ranch dip, mango chili dip
HotDoggeria: Chicago bun, kielbasa, ketchup, cheese, pickle, bacon, Medium Lemon Mist, Small Candy Jack
Cupcakeria: Liner C, Kiwi Cake, Cupcake 1: Red Frosting, Sprinkles, Chocolate Chips (Tropical Charms), 3 Cherries (Gummy Pineapples), Cupcake 2: Chocolate Frosting, Strawberry Drizzle (Honey), Nutty Butter Cup (Banana)
Pastaria: Spaghetti (Shells), Three Cheese Sauce, Grated Parmesan, 6 Shrimp (Glazed Ham), 6 Green Peppers
Donuteria: Donut 1: Vanilla Long John (Seashell), Vanilla Icing (Yellow Icing), Dreamsicle Drizzle, Creameo Bits, Donut 2: Red Velvet Round, Blackberry Jelly (Maui Merengue), Raspberry Bark, Chocolate Chips (Tropical Charms), Donut 3: Blueberry Ring (Seashell), Orange Icing, Chocolate Mousse, Chocolate Drizzle (Mango Drizzle)
Cheeseria: Pumpernickel Roll (Hawaiian Roll), Sliced Ham, Olives (Pineapple), Ranch, Fried Egg, Waffle Fries with Ketchup and Jalapenos
Trivia
This page was made on Angrybirdsrocks323' s kindle
Doremy Sweet

's FCs
Major FCs
(Click to Expand/Hide)
Minor FCs
(Click to Expand/Hide)
Touhou FCs
(Click to Expand/Hide)
Ad blocker interference detected!
Wikia is a free-to-use site that makes money from advertising. We have a modified experience for viewers using ad blockers

Wikia is not accessible if you've made further modifications. Remove the custom ad blocker rule(s) and the page will load as expected.