Joe is a diner worker who first appears in Pancakeria, he owns a diner near a bridge at Maple Mountains. He will order anything blue or green, his favorite colors. His favorite Holiday is Summer Luau.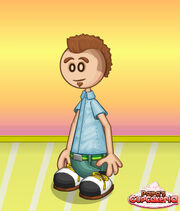 Orders
Pancakeria: French Toach with Blueberry Mix, Blueberry Syrup, Blueberries and Sugar with a Large Decaf with Cream.
Wingeria: 6 Wasabi Boneless Wings on the Right, 6 Lettuce on the Left with 2 Ranch Dips.
Hot Doggeria: Veggie Dog in a Hoagie Roll, Mayo, Onions, Relish, 3 Sports Peppers and a Medium Diet Fizzo with Small Cotton Puffs.
Cupcakeria: Red Velvet Cake in Liner D.
Cupcake 1: Teal Frosting, Tropical Charms, Sprinkles, Vanilla Drizzle, 3 Paper Umbrellas (Nutty Butter Cups afterwards).
Cupcake 2: Deep Blue Frosting, Chocolate Drizzle, 2 Bananas (Marshmallows later).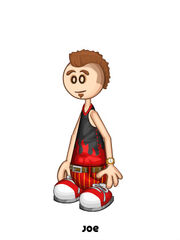 Ad blocker interference detected!
Wikia is a free-to-use site that makes money from advertising. We have a modified experience for viewers using ad blockers

Wikia is not accessible if you've made further modifications. Remove the custom ad blocker rule(s) and the page will load as expected.