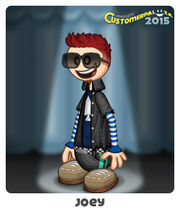 Joey is a male customer who made his first appearance in Papa's Donuteria. He is a Scarlett and the Shakers fanboy. His boyfriend is
Shane
. His favorite holiday is Sky Ninja Returns (Donuteria) and Valentine's Day (Cheeseria and Cupcakeria To Go!).
Orders
Donut 1

Regular Dough
Roll
Cinnamon Sugar
Vanilla Drizzle
Mini Mallows

Donut 2

Blueberry Dough
Long John 
Powdered Sugar
Blueberry Custard (Hakuto Jelly)
Sugarplum Drizzle (Matcha)
Rock Candy

Donut 3

Pumpkin Dough
Ring (Pon De Ring)
Sky Blue Frosting
Whipped Cream
Dreamsicle Drizzle (Cantaloupe)
Rainbow Sprinkles (Boba Bubbles)
Cheeseria
White Bread
Havarti Cheese
Saerkraut
Olives
Lobster Chunks
Deep Fried Pickles

Crinkle Cut Fries
Poutine
Will do CTG! Later!
Ad blocker interference detected!
Wikia is a free-to-use site that makes money from advertising. We have a modified experience for viewers using ad blockers

Wikia is not accessible if you've made further modifications. Remove the custom ad blocker rule(s) and the page will load as expected.