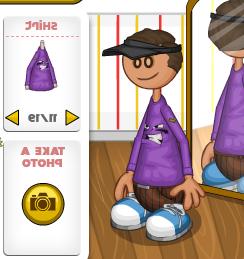 Johnathon is a Chef in Papa's Hotdoggeria. His debut is Papa's Taco Mia. He is absent in Pancakeria. Sarge Fan! Is Jealous of Him Because he Owns Sarge Clotches.
Taco Mia: Beef in a Pita Shell,  tomatoes, onions, cheese, cheese, onions, tomatoes
Freezeria: Medium Cup, Blueberries, Vanilla Syrup, Chunky, Cream, butterscotch, Cherry
Pancakeria: ABSENT
Wingeria: 6 Atomic Shrimps, 2 teriyaki shrimps,  4 celeries
Hotdoggeria: Normal Bun, Veggie Dog, mild sauce, pineapple relish, hot sauce, Small root beer, Large Cotton Puffs
Cupcakeria: 2nd wrapper, strawberry cake, violet frosting, sprinkles
Pastaria: Spaghetti, Three Cheese, mozzarella Pepperoni bread
Ad blocker interference detected!
Wikia is a free-to-use site that makes money from advertising. We have a modified experience for viewers using ad blockers

Wikia is not accessible if you've made further modifications. Remove the custom ad blocker rule(s) and the page will load as expected.