""In order to master darkness when it comes to martial arts, simply focus your mind, don't fill anger, it's because it will add motivation without purpose. But if you can imagine a darkness can smash things with your hands...""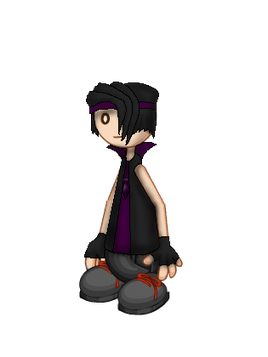 Julio Blackwood,
or 
Julius Aaron Enigma Blackwood
 is a genderbend of 
Julia Witherwood
, was made months after Julia was made.
Bio
Julio learnt some magic at Julia, about darkness when it comes to Martial Arts.
Julio finally made it at once when he tried once. However, he was actually crushed down by Suzanna Shukuba, his common opponent. And it comes the day that he can beat Suzanna by remembering Julia's tips. After the battle, he knew this when he defeated Suzanna for the first time, he explained softly, "A master failed more times than a beginner has tried."
Trivias
Akiza raffled this FC. His new own is Rage mallor
Gallery
Ad blocker interference detected!
Wikia is a free-to-use site that makes money from advertising. We have a modified experience for viewers using ad blockers

Wikia is not accessible if you've made further modifications. Remove the custom ad blocker rule(s) and the page will load as expected.