Kabos & Vaibhav are two guys that are brothers. They sometimes fight, but at other time they forget about it.
Kabos
Kabos is the older brother of Vaibhav and His favorite holiday is Easter. He is 18. His orders are somewhat long, and other times they're short, but include ingredients that are unlocked late. 
Orders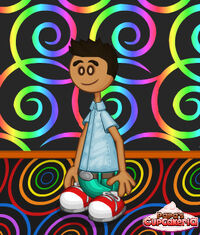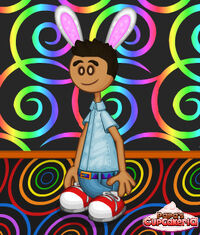 *Burgeria: Bun, Welldone Patty, Welldone Patty, Mustard, Cheese, Tomato, Medium Patty, Bun.
Taco Mia: Pita, Chicken, Pinto Beans, Beans, Jalapeños, Sour Cream.
Freezeria: M, Strawberries, Rainbow Sherbet, Chunky, Choco Whip Cream, Blueberry Syrup, Chocolate Chips, Butterscoth, Chocolate Chips, x2 Cookies
Pancakeria: x2 Bacon Pancakes Cinnamon, x2 Blueberry Pancakes, Sugar, x2 Butter. L OJ w/ Ice.
Wingeria: x2 Garlic Shrimps (right), x4 BBQ Strips, x8 Celeries (Left), x4 Carrots. x3 Mango Chili.
Hotdoggeria: Pretzel Bun, Hotdog, Ketchup, Salsa, Marinara, Salsa, Relish, x1 Bacon. M Dr. Cherry, S Cheddar Corn.
Cupcakeria: Liner C, Lemon Cake.

1st: Mocha Frosting, Cotton Candy Drizzle, Jelly Beans, x1 Tulip Cookie.
2nd: Green Frosting, Cotton Candy Drizzle, Chocolate Chips, x2 Easter Bunny Ears.
Vaibhav
Vaibhav is 10 mins younger than Kabos. He's kindhearted but sometimes fights with Kabos. His favorite Holiday is Christmas.
Orders
Taco Mia: Pita, Steal, Guac, Loco ? Sauce, Guac, Diced Tomatoes.
Freezeria: S, Pinneaple, Banana, Smooth, Whip Cream, Tropical Charms, Strawberry Syrup, Chocolate Syrup.
Pancakeria: x1 Pecan Toast, Cinnamon, x5 Butter, x1 Bacon Toast, Blueberry Syrup, x2 Strawberries, x1 Banana. S Milk w/ Cocoa
Wingeria: x8 Wild Onion Wings, x4 Cheese Cubes (left) x2 Carrots (left), x6 Green Peppers (right)
Hotdoggeria: Pretzel Bun, Kielbasa, Pinneaple Relish, Ketchup, Sauerkraut, Mushrooms, Kethcup. S Tangerine Pop, S Choco Popcorn.
Cupcakeria: Liner A, Confetti Cake.

1st: Forest Green Frosting, Santa Cookie Drizzle, Crushed Candy Cane, Santa Cookie Drizzle, x2 Gingerbread Mans, x2 Tree Cookies.
2nd: Deep Purple Frosting, Strawberry Drizzle, Santa Cookie Drizzle, Crushed Candy Cane, x2 Candy Presents, x1 Gingerbread Man, x1 Couldberry.
Ad blocker interference detected!
Wikia is a free-to-use site that makes money from advertising. We have a modified experience for viewers using ad blockers

Wikia is not accessible if you've made further modifications. Remove the custom ad blocker rule(s) and the page will load as expected.