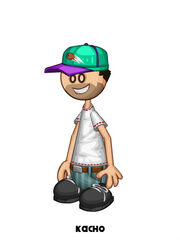 Juan Jose "Kacho" Walsh is a 40 year old man. His sisters are
Fevi
and
Scarletta
. His daughters are
Daisy
and
Zahra
. His nieces and nephews are
Amber
,
Auburn
,
Matthew
,
Tennyr
, and
Nico
. His favorite holiday is Valentine's Day.
Orders
Pizzeria
Plain Pizza
5 Mins
Cut to 8ths
Burgeria (HD) ((To Go))
Top Bun
(Mushrooms)
((Jalepenos))
(Pepperjack) Cheese
Medium Patty
Bottom Bun
Taco Mia!
Hard Shell
Pork
Guacamole
Verde Sauce
Lettuce
Cheese
Freezeria (HD)
Medium Cup
Strawberries (Peaches)
Rainbow Sherbert Syrup (Blue Moon Syrup)
Chunky Blend
Whipped Cream
Sprinkles
(Hazelnut Swizzle)
(Pomegranates)
(Cloudberry)
Pancakeria
3 Pancakes
Maple Syrup
Coffee, S, Cream
Wingeria
Hot Doggeria
Pretzel Bun
Hot Dog
Mustard
Sauerkraut
L Diet Fizzo
S Cheddar Corn
Cupcackeria
Liner B
Confetti Cake
Red Frosting
X and O Sprinkles
Creameo Bits
Cherry (Chocolate Strawberry)
Ad blocker interference detected!
Wikia is a free-to-use site that makes money from advertising. We have a modified experience for viewers using ad blockers

Wikia is not accessible if you've made further modifications. Remove the custom ad blocker rule(s) and the page will load as expected.