Kaguya is a princess! She is very lazy, and spends all her time inside with a computer, or video games.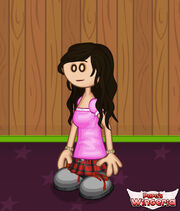 Orders
Pizzeria: 6 Peppers, 12 Olives, Cooked for 13.5 cut In 8ths.
Burgeria: Bun, Pickle, Cheese, Ketchup, Pickle, Rare Patty, Cheese, Ketchup, Welldone Patty, Bun.
Burgeria Ipad: Bun, Bacon, Pickle, Pepperjack, Ketchup, Pickle, Medium Patty, Pepperjack, Ketchup, Bun.
Taco Mia: Soft, Pork, Cheese, Tomato, Guacamole, Peppers, Sour Cream
Freezeria: L Strawberry w/ Blueberries, Chunky, Whipped Cream, Choco Syrup, Sprinkles, Cherry, Cookie, Cherry, Creameo
Pancakeria: Blueberry Toast, Bluberry Syrup, Blueberries, x2 Butter, Cinnamon, L Tea w/ Ice
Wingeria: 8 BBQ Boneless, 8 Parmesan Boneless, Blue Cheese (x4)
Hotdoggeria: Chicago Bun, Cheddarwurst, Salsa, Pinneaple Relish, Mayo, Mild Sauce, Pickle, L Lemon Mist, M Kettle Corn

05:33

Kaguya's Theme - Lunatic Princess
Doremy Sweet

's FCs
Major FCs
(Click to Expand/Hide)
Minor FCs
(Click to Expand/Hide)
Touhou FCs
(Click to Expand/Hide)
Ad blocker interference detected!
Wikia is a free-to-use site that makes money from advertising. We have a modified experience for viewers using ad blockers

Wikia is not accessible if you've made further modifications. Remove the custom ad blocker rule(s) and the page will load as expected.