(Not to be Confused with Kanoko)
Just What do you Think You're Doing?
This is property of Doremy. Please Do Not Edit Unless you got Specific Permission. However, you may edit Grammar Mistakes and Other Minor Edits.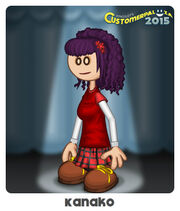 Kanako Yasaka is a God who is the goddess of
Sanae Kochiya
's shrine. She is best friends with
Suwako Moriya
. Kanako is a scientific genius, and often experiments with things like nuclear power.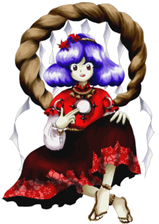 Orders
Freezeria: Large Cup, Oreos, Banana Syrup, Smoo
th Blend, Whipped cream, nuts, 3 bananas
Pancakeria: Waffle w/ bacon Mix, waffle w/ pecan mix, 3 butter pads. 4 bananas, maple syrup, small decaf coffee with sugar
Wingeria: 4 spicy garlic boneless, 2 red peppers to the right, 2 green peppers to the left, 2 zesty pesto dip         
Hot Doggeria: Pretzel Bun, Italian Sausage, ketchup, relish, bacon, Medium Dr, Cherry, Small Buttered Popcorn
Cupcakeria: ABSENT
Pastaria: Gnocchi, Creamy alfredo, crushida pepper, 5 sausage pieces
Doremy Sweet

's FCs
Major FCs
(Click to Expand/Hide)
Minor FCs
(Click to Expand/Hide)
Touhou FCs
(Click to Expand/Hide)
Ad blocker interference detected!
Wikia is a free-to-use site that makes money from advertising. We have a modified experience for viewers using ad blockers

Wikia is not accessible if you've made further modifications. Remove the custom ad blocker rule(s) and the page will load as expected.