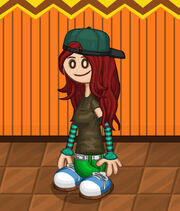 Kara Word is a 17 year old girl who's mother is Olgia. Her cousins are
Amber
,
Auburn
,
Matthew
,
Tennyr
,
Zahra
,
Daisy
,
Nico
, and Meli. Kara made her debut in Papa's Freezeria . Her favorite holidays are Summer Luau (Cupcakeria, Donuteria) and Starlight Jubilee (Pastaria).
Orders
Freezeria
Medium Cup
Cookie Dough
Mint Syrup
Chunky
Whipped Cream
Blueberry Topping
Cherry
Pancakeria
Pancake
Maple Syrup
5x Strawberries
1x Butter
Orange Juice, L, Ice
Wingeria
4 Buffalo Wings
5 Fries on left
Ranch Dressing
Hot Doggeria
Pretzel Bun
Veggie Dog
Hot Sauce
Bacon
Large Fizzo, Medium Red Hot Popcorn
Cupcakeria
Cupcake 1

Liner B
Lemon Cake
Sunglow Frosting (White Frosting)
Vanilla Drizzle (Honey Drizzle)
Cherry

Cupcake 2

Liner B
Lemon Cake
Sunglow Frosting (White Frosting)
Rainbow Sprinkles (Tropical Charms)
Cloudberry
Pastaria
Spaghetti (Stellini)
Al Dente
Papa's Marinara (Rocket Ragu)
Parmesan cheese (Blue Cheese)
5x Mushrooms (Provolone Stars)
Crescent Roll (Garlic Breadstick)
Donuteria
Donut 1

Regular
Long John
Chocolate Mousse
Chocolate Frosting
Chocolate Drizzle
Chocolate Chips

Donut 2

Blueberry
Round
Lemon Chiffon
Red Frosting
Cosmic Coconut

Donut 3

Regular
French Cruller
Clear Glaze
Rainbow Sprinkles
Ad blocker interference detected!
Wikia is a free-to-use site that makes money from advertising. We have a modified experience for viewers using ad blockers

Wikia is not accessible if you've made further modifications. Remove the custom ad blocker rule(s) and the page will load as expected.