Just What do you Think You're Doing,

User

?
This is property of Doremy. Please Do Not Edit Unless you got Specific Permission. However, you may edit Grammar Mistakes and Other Minor Edits.
Karma is a girl who first appeared in Papa's Pancakeria. She likes Temple Run and Cut the Rope. She likes Hugo but doesn't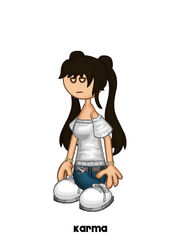 tell him. But, since she is married she has to find another boyfriend. In pancakeria, she has a sad face (see bio)
Pancakeria: Waffle, Waffle, blueberries, 2 butters, 2 bananas, Large Cranberry Juice with Ice
Burgeria HD: Bun, Cheese, Mustard, Bun, lettuce, Well Done patty, Bun (Same for To Go!)
Wingeria: 5 spicy garlic wings, 7 french fries, 2 celeries
Hotdoggeria: Hoagie Roll, Veggie Dog, relish, mayo, relish, pickle, salsa, Medium Fizzo, Large Cinnamon Swirl
Cupcakeria: 1st wrapper, Strawberry Cake, CUPCAKE 1: Deep Purple Frosting, sprinkles, chocholate chips, 3 nutty butter cups CUPCAKE 2: Sunglow Frosting, assorted holiday drizzles
Bio
Karma was the youngest child in Brenda's family. She was sailing around Calypso Island when she was a teenager when a hurricane struck, driving her boat WAAAY off course, and she crash-landed in some distant, remote island near Tastyville. She lived as a castaway until a tribe of natives found her and let them live with her. She met a man and fell in love with him. On the day of the wedding, evil colonists invaded, which led to the start of a bloody war. Her fiance, Hugh, got a wound. She sailed away with him on her boat to escape the war. Hugh's wound got infected and he died. She has lived in sadness ever since :'(. But she got over it.
Ranks
Pancakeria: 17 (Medium)
Burgeria HD: 2 (Easy)
Wingeria: 55 (Challenging)
Hotdoggeria 42 (Hard)
Burgeria To Go!: 5 (Easy)
Doremy Sweet

's FCs
Major FCs
(Click to Expand/Hide)
Minor FCs
(Click to Expand/Hide)
Touhou FCs
(Click to Expand/Hide)
Ad blocker interference detected!
Wikia is a free-to-use site that makes money from advertising. We have a modified experience for viewers using ad blockers

Wikia is not accessible if you've made further modifications. Remove the custom ad blocker rule(s) and the page will load as expected.