Katelyn is a Worker in the Hotdoggeria. She has a crush on Mario.
Freezeria: Medium Cup, Nutty Butter Cups, Chocholate Syrup, Smooth, Cream, chocholate chips, shaved mints, 4 gummy onions
Pancakeria: 3 Toasts+ Bacon Mix, syrup, blueberry syrup, whipped cream, honey, chocholate chips, Small Tea with Cream
Wingeria: 6 atomic shrimps, 6 fries, ranch, blue cheese, kung pao
Hotdoggeria: Hoagie Roll, Cheddarwurst, mayo, mustard, chili, mushrooms, Small Diet Fizzo, Large Kettlecorn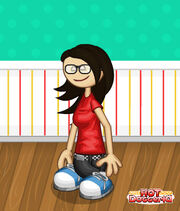 Ad blocker interference detected!
Wikia is a free-to-use site that makes money from advertising. We have a modified experience for viewers using ad blockers

Wikia is not accessible if you've made further modifications. Remove the custom ad blocker rule(s) and the page will load as expected.