Katie is a customer first appearing in Papa's Burgeria. She is a fashionista girl.She likes pink. On her spare time, she does art and has a painting store.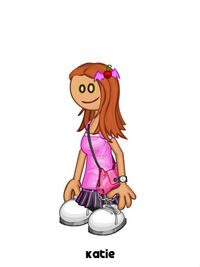 Orders
Burgeria: Bun, Pickle, Onion, Mustard, Cheese, Tomato, Mayo, Welldone Patty, Bun.
Taco Mia: Pita, Beef, Verde Sauce, Guac, Cheese, ? Sauce, Diced Tomatoes.
Freezeria: S, Mint Syrup, Cookie Dough, Smooth, Whip Cream, Sprinkles, Tropical Charms, Strawberrry Syrup, x2 Creameos.
Pancakeria: Blueberry Waffle, Bacon Waffle, Pecan Pancake, Choco Chip Pancake, x2 Strawberries, Cinnamon. L Tea w/ Ice.
Wingeria: x2 Wasabi Boneless, x4 R. Peppers, x4 Carrots, Ranch Dip, Awesome Sauce.
Hot Doggeria: Pumpernickel Roll, Cheddarwurst, Marinara Sauce, Ketchup, Relish, Bacon. S Purple Burple, S RHP.
Cupcakeria: Liner D, Strawberry Cake.}

1st: Orange Frosting, Chocolate Syrup, Silver Star Sprinkles, x1 WCS.
2nd: Green Frosting, Powsicle Drizzle, Silver Star Sprinkles, x1 Couldberry, x1 WCS.

Freezeria HD: S, Blue Moon, Cotton Puffs, Regular, Whip Cream, Blueberry Syrup, Shaved Coconuts, x1 Wafer Roll, x1 Waffle Cookie, x1 Cherry.
Ad blocker interference detected!
Wikia is a free-to-use site that makes money from advertising. We have a modified experience for viewers using ad blockers

Wikia is not accessible if you've made further modifications. Remove the custom ad blocker rule(s) and the page will load as expected.