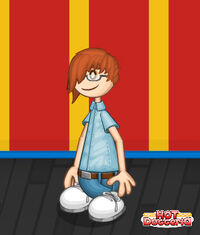 Kyle "KayCee" Merrick Parn Mazale is a big guy who is crushed with her wife he is owned on the final day of basketball season, he also to play video games and watching movies and tv shows and playing guitars.
As a customer, he is a time and regular customer.
He's usually quiet most of the time.
Orders
Papa's Pizzeria
4 Peppers Left
4 Olives Right
Cooked for 10.5 minutes, Cut in 4ths
Papa's Burgeria
Bottom Bun
Medium Patty
Cheese
Tomato
Lettuce
Ketchup
Top Bun
Papa's Burgeria HD/Burgeria To Go
Bottom Bun
Medium Patty
Fried Onion Ring
Cheese
Bottom Bun
Medium Patty
Cheese
Bacon
Top Bun
Papa's Taco Mia
Hard Shell
Chicken
Nacho Cheese Sauce
Cheese
Onions
Tomatos
Sour Cream
Papa's Freezeria/Freezeria HD
Medium Cup
Creameo Bits w/ Mint
Regular Blend
Whipped Cream
Chocolate Topping
Chocolate Chips
Shaved Mints
Creameo
Cherry
Papa's Pancakeria or Absent
2 Chocolate Chips Pancakes
Whipped Cream
Chocolate Chips
Maple Syrup
2 Butters
Small Chocolate Milk
Papa's Wingeria
4 Parmesan Strips
4 Buffalo Wings
4 Celeries Left
4 French Fries Right
2 Kung Pao Dip and Ranch Dip
Papa's Hot Doggeria
Regular Bun
Hot Dog
Ketchup
Mustard
Relish
Cheese
Marinara Sauce
Small Purple Burple (Fizzo and Dr. Cherry if Locked) Large Buttered Popcorn
Papa's Cupcakeria
Line B
Red Velvet Cake (Chocolate Cake if Locked)
Cupcake 1
White Frosting
Santa Cookie Drizzle (Chocolate Drizzle in other holidays)
Rainbow Sprinkles
Creameo Bits
2 Candy Present (2 Marshmallow in other holidays)
Cherry
Cupcake 2
Chocolate Frosting
Vanilla Drizzle
Candy Cane Crush (Chocolate Chips in other holiday)
Creameo Bits
2 Christmas Tree Cookies (2 Cherries in other holiday)
1 Gingerbread Cookie (Marshmallow in other holidays)
Papa's Pastaria
Regular Spaghetti
Cathedral Carbonara (Three Cheese Sauce in other holidays)
Parmesan Cheese
Shreded Mozzarella
5 Chickens
4 Pickled Eggs (no other topping in other holidays)
Garlic Breadstick
Papa's Freezeria To Go!
Large Cup
Creameo Bits w/Mint Syrup
Regular Blend
Whipped Cream
Chocolate Syrup
Chocolate Chips
Shaved Mints
Mint Bar
Creameo
Cherry
Ad blocker interference detected!
Wikia is a free-to-use site that makes money from advertising. We have a modified experience for viewers using ad blockers

Wikia is not accessible if you've made further modifications. Remove the custom ad blocker rule(s) and the page will load as expected.