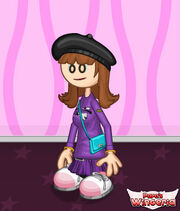 Keriana is a customer, her first appearence was Papa's Taco Mia!, she had been a closer from Taco Mia! to Wingeria, she stopped being a closer in Hot Doggeria, she usally has very small orders, she is married to Jojo. Her daughter is Heather. Her favorite holidays are Onionfest (Cupcakeria) and Gondola 500 (Pastaria)
Orders
Taco Mia!:
Soft Taco (if not yet, hard shell instead)
Steak (if not yet, the latest meat you unlocked)
Nacho cheese (if not yet, sour cream)
Freezeria:
Medium Cup
Blueberries
Rainbow Sherbet (if not yet, the latest syrup you unlocked)
Regular Blended
Whipped Cream
Blueberry topping
Cherry
Pancakeria:
French Toast + Blueberry Mix (if not yet, pancake)
Whipped Cream
10x butter
Orange Juice (if not yet, Decaf), S, Ice (if not yet, cream)
Wingeria:
3 Buffalo Boneless Wings (if not yet, regular wings)
Hot Doggeria:
Cucakeria (Symmetrical)
Liner A
Strawberry Cake
Deep Purple Frosting (Violet Frosting if not yet unlocked, Pink Frosting if not yet unlocked)
Purple Burple Drizzle
Lollipop Bits
Nutty Butter Cup
Pastaria
Fettuccini
Garlic Basil Sauce (Hurry Curry)
Black Pepper
Italian Seasoning
Poppyseed Roll
Ad blocker interference detected!
Wikia is a free-to-use site that makes money from advertising. We have a modified experience for viewers using ad blockers

Wikia is not accessible if you've made further modifications. Remove the custom ad blocker rule(s) and the page will load as expected.