Just What do you Think You're Doing,

User

?
This is property of Doremy. Please Do Not Edit Unless you got Specific Permission. However, you may edit Grammar Mistakes and Other Minor Edits.
Klaus is a rather smart kid in tastyville. he likes to read books. he is loosely based off Klaus Baudelaire from A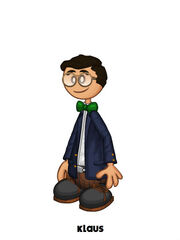 series of unfortunate events. He first appears in Papa's Cupcakeria.
Orders
Papa's Cupcakeria: 4th Wrapper, Carrot Cake
CUPCAKE ONE: Sunglow Frosting, chocolate drizzle, 3 cherries
CUPCAKE TWO: White Frosting, Chocholate drizzle, holiday sprinkles, 3 marshmallows (mint bars during st paddy's day)
Papa's Pastaria: Bowtie, Three Cheese Sauce (Hurry Curry during gondola 500), mozzarella, holiday shakers, 5 meatballs
Doremy Sweet

's FCs
Major FCs
(Click to Expand/Hide)
Minor FCs
(Click to Expand/Hide)
Touhou FCs
(Click to Expand/Hide)
Ad blocker interference detected!
Wikia is a free-to-use site that makes money from advertising. We have a modified experience for viewers using ad blockers

Wikia is not accessible if you've made further modifications. Remove the custom ad blocker rule(s) and the page will load as expected.