The Komeji Sisters are Satori Komeji and Koishi Komeji. Satori can read other people's minds while Koishi can manipulate the subconscious!
Satori Komeji
Satori Komeji is Koishi's older sister, and she can read minds. She has short orders, possibly the shortest ones in the games. She is sad a lot. Her pets are
Utsuho Reiuji
and
Rin Kaenbyou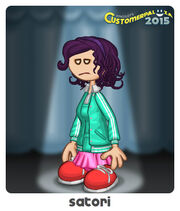 Orders
Burgeria: Bun, Onion, Medium Cooked Patty, Bun.
Taco Mia!: Soft, Pork, Jalapeños, Lettuce.
Freezeria: S Cup, Rainbow Sherbet, Strawberries, Chunky, Cream, Blueberry Syrup.
Pancakeria (Long Order) x3 Pecan French Toast with Cinnamon on every one of them, and Blueberry Syrup on top. S Tea w/ Ice.
Wingeria: 5 Wild Onion Strips, 5 Celeries, 5 Carrots, Ranch Dip x4
Hotdoggeria (Long) Hoagie Roll, Hot dog, Chili, Ketchup, Cheese, Ballpark Mustard. M Lemon Mist and M Kettle Corn.
Glitch
There was a glitch where you could put all the Cinnamon on top on her order in Pancakeria.
Koishi Komeji
Koishi is also a Komeiji. Since she sealed away her 3rd eye, she got the ability to manipulate subconscious. She is crazy.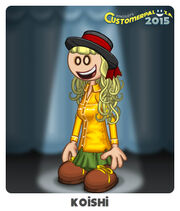 Orders
Burgeria: Bun, Well done patty, cheese, bun
Taco MIa: Pita Bread, Pork, nacho cheese, jalapenos, hot sauce, peppers
Freezeria: Small Cup, Marshmallows, Rainbow Sherbet, Smooth, Whipped cream, sprinkles
Pancakeria: 1 bacon waffle, syrup, Small Milk with cocoa
Wingeria: 5 spicy garlic strips, 4 carrots
Hot Doggeria: Pretzel Bun, Kielbasa, pickle
Cupcakeria: 4th wrapper, Confetti Cake, Violet frosting on both, sprinkles on both
Doremy Sweet

's FCs
Major FCs
(Click to Expand/Hide)
Minor FCs
(Click to Expand/Hide)
Touhou FCs
(Click to Expand/Hide)
Ad blocker interference detected!
Wikia is a free-to-use site that makes money from advertising. We have a modified experience for viewers using ad blockers

Wikia is not accessible if you've made further modifications. Remove the custom ad blocker rule(s) and the page will load as expected.