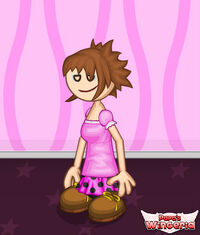 (Not to be Confused with
Kyouko Gato
)
Kyouko Kasodani is the Cleaner of the Myouren Temple and Member of a Punk Band named Choujuu Gigaku with Mystia Lorelei in which she is the Vocalist. She's a Yamabiko. (a youkai that embodies mountain echoes and is able to reflect sound waves). Her ability is "Manipulation of Sound Waves"
Orders.
Pizzeria: 5 Olives, 5 Pepperonis on Bottom Left, 5 Anchovies on Top Left, 5 Sausages on Top Right, 5 Peppers on Bottom Right. Cooked for 15, Cut In 8ths.
Burgeria: Bun, Mustard, Cheese, Onion, Medium Patty, Tomato, Mustard, Bun.
Taco Mia: Pita, Beef, Verde Sauce, Lettuce, Verde Sauce, Tomato, Cheese, Lettuce.
Freezeria: S Cup, Marshmallows, Strawberry Syrup, Smooth, Choco Whip Cream, Butterscoth, Shaved Mints, Butterscoth, x6 Bananas.
Pancakeria: Choco Chip Toast, Blueberry Syrup, Choco Chips, Blueberry Toast, Choco Chips, Blueberries, L Tea w/ Ice.
Wingeria: 2 Honey Mustard Boneless, 2 Parmesan Strips, 8 Celeries, 8 Green Peppers, Mango Chili Dip (x2) Zesty Pesto (x2)
Hot Doggeria: Pumpernickel Roll, Veggie Dog, Mayo, Relish, Mayo, Chili, Mayo, Pinneaple Relish, Mayo. L Purple Burple w/ M Candy Jack.
Cupcakeria: Liner C, Vainilla Cake.

1st: Violet Frosting, Cotton Candy Drizzle, Jelly Beans, Jelly Beans, x1 Candy Egg.
2nd: Chocolate Frosting, Chocolate Drizzle, Jelly Beans, x2 Bunny Ears.
Special Thanks to
Dawn14: For adding the picture.
TouhouandMarioFan: For adding the theme and creatin the page.
Thank ya guys!
Theme
Ad blocker interference detected!
Wikia is a free-to-use site that makes money from advertising. We have a modified experience for viewers using ad blockers

Wikia is not accessible if you've made further modifications. Remove the custom ad blocker rule(s) and the page will load as expected.