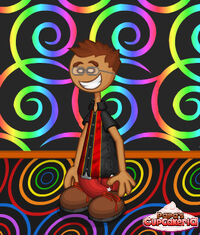 Lance is a guy with multiple works, His orders are medium-sized.
Orders
Pizzeria: 3 Peppers over all the pizza, 6 Pepperoni over all the pizza, 3 Olives over all the pizza, cooked for 5 mins, cut in 6ths.
Burgeria: Bun, Rare Patty, Ketchup, Rare Patty, Lettuce, BBQ, Medium Patty, Bun.
Taco Mia: Hard, Beef, Nacho Cheese, Beans, Tomatoes.
Freezeria: S Cup, Cookie Dough, Banana, Chunky, Choco Whip Cream, Chocolate Syrup, Chocolate Chips, Vanilla Syrup, Chocolate Chips, x3 Cookies, x1 Gummy Onion.
Pancakeria: x1 Pecan Waffle, Whipped Cream, Cinnamon, x2 Bananas. S OJ w/ Ice.
Wingeria: x5 Garlic Wings, x10 Celery, x5 Cheese Cubes, Ranch Dip, Zesty Pesto.
Hot Doggeria: *short order, but he is unlocked late* Pumpernickel Roll, Italian Sausage, Pinneaple Relish, Bacon, M Tangerine Pop, S Red Hot Popcorn.
Cupcakeria: Liner B, Lemon Cake

1st: Black Frosting, Scary Sprinkles, Chocolate Drizzle, Scary Sprinkles, x1 Cookie.
2nd: Teal Frosting, Scary Sprinkles, Vanilla Drizzle, Chocolate Chips, Scary Sprinkles, Chocolate Drizzle, x1 Candy Corn.

Pastaria: Al-dente Harvest Tortellini with Pumpkin Pomodoro.

Italian Seasoning, Crushed Croutons, Italian Seasoning, Mozzarella, x4 Prosciutto, x5 Roasted Turkey, Garlic Breadstick.
Ad blocker interference detected!
Wikia is a free-to-use site that makes money from advertising. We have a modified experience for viewers using ad blockers

Wikia is not accessible if you've made further modifications. Remove the custom ad blocker rule(s) and the page will load as expected.