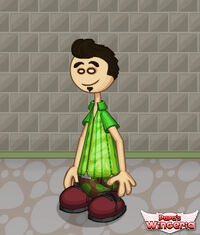 Landon is a guy who likes cold climates and he goes fresh when going to a hot land. He's also 
Zev
's brother, and they have the same age. He's also quite gluttony.
Orders
Pizzeria: 2 of each toppings over all the pizza, cooked for 45 mins, cut in 4ths
Burgeria: Bottom B, Lettuce, Mustard, Cheese, Mayo, Medium Burger, Top B.
Taco Mia: Soft, Beef, Verde Sacue, Cheese, Jalapeños, Onions, Hot Sacue.
Freezeria: L, Creameo Bits, Strawberry, Medium, Choco whip cream, Chocolate Syrup, Sprinkles, Strawberry Syrup, Chocolate Chips, x1 Cherry, x2 Cookies.
Pancakeria: a Pancake with each mix, Cinnamon x2, L Milk w/ Ice.
Wingeria: 6 Honey M. Shrimp, 3 Parmesan Strips, 6 Green Peppers, 3 Cheese Cubes, Zesty Pesto, Awesome Sauce.
Hotdoggeria: Pretzel Bun, It. Sausage, Ketchup, Mushrooms, Mustard, Sauerkraut, Wild Onion Sauce, Diced T., Bacon, L Purple Burple, L RHP.
Ad blocker interference detected!
Wikia is a free-to-use site that makes money from advertising. We have a modified experience for viewers using ad blockers

Wikia is not accessible if you've made further modifications. Remove the custom ad blocker rule(s) and the page will load as expected.