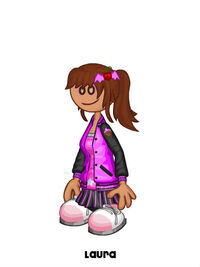 Laura is Luis' selfabsorbed sister. She's 12 years old. She's also based on Luis' sister. (and yes, laura is her real name). She likes Christmas, along with Steven.
Orders
Pizzeria: x6 Olives, x9 Mushrooms, 6 onions on bottom left corner, 6 peppers on top right corner, cooked for 10, cut in 6ths.
Burgeria: Bottom Bun, Well-Done Patty, Cheese, Pickle, Ketchup, Pickle, Medium Patty, Top Bun.
Taco Mia: Pita, Chicken, Pinto Beans, Sour Cream, Onions, Guac.
Freezeria: S, Creameo Bits, Strawberry, Regular, Whip Cream, Nuts, Chocolate Syrup, Nuts, Strawberry Syrup, x1 Creameo.
Pancakeria: Bacon Toast, Maple Syrup, Cinnamon, Bacon Toast, Cinnamon, x1 Banana. L Cranberry Juice w/ Ice.
Wingeria: x4 BBQ Shrimp, x2 Wasabi Wings, x2 Atomic Boneless, x8 Green Peppers.
Hotdoggeria: Chicago Bun, Cheddarwurst, Ketchup, Pinneaple Relish, Mustard, Pinneaple Relish. M Dr. Cherry, M Choco Corn.
Cupcakeria: Liner B, Confetti Cake.

1st: Forest Green Frosting, Santa Cookie Drizzle, Sprinkles, x2 NBC, x1 Tree Cookie.
2nd: Sunglow Frosting, Santa Cookie Drizzle, x3 Gingerbread Mans, x1 NBC.

Pastaria

Regular Festive Rotini
Roasted Romana
Yule Spice
Grated Mozzarella
x4 Chicken
x1 Basil Leaf
Poppyseed Roll

Donuteria:

Pumpkin Tree Donut, Festive Swirl, Snowflakes, Santa Cookie Drizzle
Pumpkin Tree Donut, Cookie Dough, Chocolate Icing, Snowflakes
Velvet Roll, Chocolate Icing, Santa Cookie Drizzle, Raspberry Bark.
Ad blocker interference detected!
Wikia is a free-to-use site that makes money from advertising. We have a modified experience for viewers using ad blockers

Wikia is not accessible if you've made further modifications. Remove the custom ad blocker rule(s) and the page will load as expected.