Just What do you Think You're Doing,

User

?
This is property of Doremy. Please Do Not Edit Unless you got Specific Permission. However, you may edit Grammar Mistakes and Other Minor Edits.
Linda is a bake-danuki (youkai tanuki (japanese raccoon dog)). She can shapeshift. She first appeared in Papa's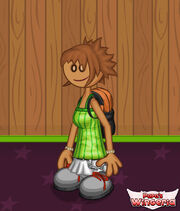 Pancakeria. Her favorite food is chocholate. She likes to turn herself into people. When she does that, she pretends to be them, order their order, but does not disguise her current star ranking. She was arrested once for turning into a bomb and bombing the park to prank Roy.
Pancakeria
Chocholate chip Pancake
chocholate chips
chocholate chip pancake
chocholate chips
syrup
1 strawberry
Large Milk w/ Cocoa
Wingeria
2 Calypso Wings
2 Parmesan Strips
4 french fries
zesty pesto dip
Hotdoggeria
Veggie Dog in a Normal Bun
relish
salsa
ketcup
sport pepper (middle)
small Dr. Cherry
Large Chocholate Corn
Cupcakeria
2nd Wrapper
Chocolate Cake
Chocolate frosting (both)
Chocolate Drizzle (Both)
Chocolate Chips (BOTH
Assorted holiday Drizzles (BOTH)
3 Nutty Butter Cups (Both)
Pastaria
Macaroni al dente
Three Cheese Sauce
Crushida Pepper
3 meatballs
4 chicken
Doremy Sweet

's FCs
Major FCs
(Click to Expand/Hide)
Minor FCs
(Click to Expand/Hide)
Touhou FCs
(Click to Expand/Hide)
Ad blocker interference detected!
Wikia is a free-to-use site that makes money from advertising. We have a modified experience for viewers using ad blockers

Wikia is not accessible if you've made further modifications. Remove the custom ad blocker rule(s) and the page will load as expected.