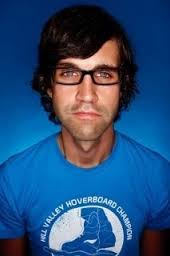 Link is a fan character in the Papa Louie series. He is NOT based of Link from The Legend of Zelda series but the Link of Good Mythical Morning, and he works at the Fizzo Company.
Orders
Burgeria: Bun, Medium Patty, Ketchup, Medium Patty, Cheese, Lettuce, Cheese, Bun.
Taco Mia: Pita, Beef, Nacho Cheese, Guac, Lettuce, Guac, Peppers.
Freezeria: M Cup, Rainbow Shebert, Pinneaple, Regular.

Whipped Cream, Rainbow Sprinkles, Tropical Charms, Blueberry Syrup, x2 Cookies (middle space is not left).

Pancakeria: Blueberry French Toast, Whipped Cream, Pecan French Toast, Chocolate Chips, x1 Banana. S OJ w/ Ice.
Wingeria: x5 Wasabi Strips, x4 Atomic Boneless, x9 Celery (gaps), Ranch Dip, Blue Cheese Dip, Awesome Sauce Dip.
Hot Doggeria: Pumpernickel Roll, Italian Sausage, Relish, Mushrooms, Pinneaple Relish, Mayo. S Tangerin Pop, S Buttered Popcorn.
Cupcakeria: Liner B, Strawberry Cake.

1st Cupcake- Teal Frosting, Cotton Candy Drizzle, Sprinkles, Shaved Coconuts, x2 Bunny Ears, x1 NBC.
2nd Cupcake- Pink Frosting, Cotton Candy Drizzle, Shaved Coconuts, Jelly Beans, x3 Tulip Cookies.

Pastaria: Regular Festive Rotini.

Roasted Romana, Yule Spice, Grated Mozzarella, x6 Prosciutto, x1 Basil Leaf. Crescent Roll.
Ad blocker interference detected!
Wikia is a free-to-use site that makes money from advertising. We have a modified experience for viewers using ad blockers

Wikia is not accessible if you've made further modifications. Remove the custom ad blocker rule(s) and the page will load as expected.