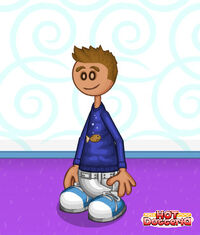 Logan is a guy who enjoyed playing Guppy Guard Express and some more games such as Super Mario Bros. He dated
Pudsey
 before his death. He is a ghost. He died in a car accident.
Orders
In Pizzeria, He wants 4 Anchovies on Top Right, 12 Mushrooms everywhere, and 3 Olives on left Right. Cooked for 15 cut in 8ths.
In Burgeria, He wants Bun, Mustard, Cheese, BBQ, Medium Patty, x2 Tomatoes, Letuce, Bun.
In Taco Mia, He wants a Soft Shell, Beef, Verde Sauce, Lettuce, Peppers, Onions, Verde Sauce and Tomato.
In Freezeria, He wants a Small Cup w/ Cookie Dough, Rainbow Sherbet, Chunky, Whip Cream, Every Syrup (No Creams) and x3 Bananas w/ 1 Cookie.
In Pancakeria, He wants x2 Bacon Toast, x2 Butter, x2 Choco Toast, Choco Chips, Blueberries and a L OJ w/ Ice.
In Wingeria, He wants 4 Parmesan Strips on the Left Side, 4 Garlic Boneless on the Right Side, 4 Cheese Cubes, 4 Celeries, Zesty Pesto Dip and Blue Cheese Dip.
In Hot Doggeria, He wants a Cheddarwurst in a Pretzel Bun with Hot Sauce, Pinneaple Relish, Mayo, Salsa, Mayo, Hot Sauce and x3 Tomatoes w/ a Pickle. L Dr Cherry, w/ M Cheddar Corn.
Cupcakeria: Liner A, Red Velvet, Black Frosting, Licorice Drizzle, x6 Candy corn. 2nd: Deep Blue Frosting, Licorice Drizzle, Spooky Sprinkles, x1 Sugar Skull.
Trivia
Logan was actually real. He was 18, and was a friend. Sadly, on September 25, 2011, he died on a car accident because he didn't notice a car was coming because he was drunk, because of a party which he was at. The car driver didn't notice Logan and killed Logan. Luis (TaMF) did this in memory and honor of him. R.I.P, Logan, died on Sept 25, 2011.
Ad blocker interference detected!
Wikia is a free-to-use site that makes money from advertising. We have a modified experience for viewers using ad blockers

Wikia is not accessible if you've made further modifications. Remove the custom ad blocker rule(s) and the page will load as expected.