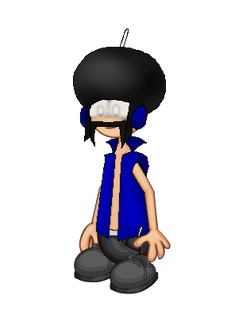 Logan Beht
plays Soccer because he have to build his body. After he was struck with the biggest interest, he retired in the name of Soccer. He is now always being the DJ in parties, sometimes he encountered demons (either Julia, Suzie or Layla), but Suzie is the common customer because Suzie loves wine, most of the time she got drunk. Logan loves to entertain dancers on the floor.
Appearance
Logan's appearance consists of a black afro-like hair with a white stick in the top, futuristic glasses, a normal blue vest with a white belt, black pants and black shoes.
Trivias
Initial creator: Erikah
Other owners adopt for a period: Rasd and Almei
Current: Up to adopt!