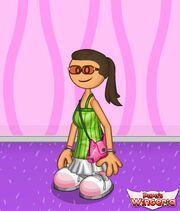 Lola is a girl from Tacodale. She is class president and is the most popular in her school. She usually dacides whats cool and makes awesome trends. She is absent in Cupcakeria,Pastaria and Hot Doggeria because she doesn't want to get cold,wet or get dirty from the dust becuase her parents got her front row seats right behind the batsman.
Orders
Taco Mia:
Beef
Soft Shell
Tomatoes
Lettuce
Sour Cream
Verde Sauce
Freezeria:
Medium Cup
Strawberries
Chocolate Syrup
Regular Blend
Regular Whipped Cream
Strawberry Syrup
Tropical Charms
Cherry
Pancakeria:
Pancake
Pancake
Raspberries
2x Butter
Cranberry Juice with Ice
Wingeria:
3 Spicy Garlic Wings
3 Atomic Wings
3 Carrots
3 Celery
Ranch Dip
Hot Doggeria:
Hot Dog
Chicago Bun
Ketchup
Cheese
Mustard
3x Tomato Wedges
Medium Fizzo
Small Candy Jack
Ad blocker interference detected!
Wikia is a free-to-use site that makes money from advertising. We have a modified experience for viewers using ad blockers

Wikia is not accessible if you've made further modifications. Remove the custom ad blocker rule(s) and the page will load as expected.