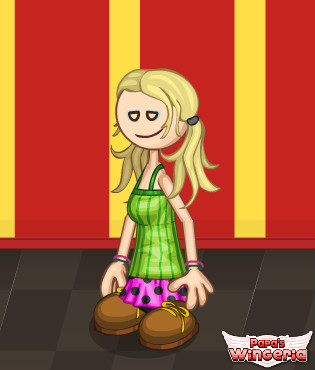 Maddie Lily Smith is a girl who debuted in Papa's Wingeria. Her favorite colors are pink and green. She is a Wingeria chef. She is 25 years old. 
Flipdeck
Maddie, a chef at the Wingeria, is one of the best wing makers in town at Starlight City. In her free time, she is also a part-time interior designer and designed the insides of Papa's Freezeria and Papa's Wingeria. She plans on designing more but is mainly focused on her award winning Spicy Garlic Wings. 
Orders
Papa's Wingeria: 4 Parmesan Shrimps, 4 Spicy Garlic Strips, 4 celeries, 4 cheese cubes, 1 ranch
Ad blocker interference detected!
Wikia is a free-to-use site that makes money from advertising. We have a modified experience for viewers using ad blockers

Wikia is not accessible if you've made further modifications. Remove the custom ad blocker rule(s) and the page will load as expected.