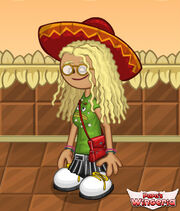 Maria is a woman who first appeared in Taco Mia!. Her favorite color is green. She is Mexican. Her favorite holiday is St. Paddy's Day
Orders
Taco Mia!
Hard Shell
Pork Carnitas
Guacomole
Sour Cream
Black Beans
Verde Sauce
Onions
Freezeria
Medium Cup
Yum 'n' M's
Mint Syrup
Smooth Blend
Chocolate Whipped Cream
Butterscotch Topping
Sprinkles
Chocolate Topping
Mint Shavings
Cookie, (none), Cookie
Pancakeria
French Toast
French Toast
Honey
French Toast
Whipped Cream
Milk, S, Cocoa
Wingeria
4 Calypso Strips (right)
4 Honey Mustard Strips (left)
Mango Chili Dip
Hot Doggeria
Hoagie Roll
Kielbasa
Relish
Papa's Ballpark Mustard
Sport Pepper, Sport Pepper, Sport Pepper
Pickle
Medium Lemon Mist, Small  Red Hot Popcorn
Cupcakeria
Liner D
Kiwi Cake (Strawberry Cake if not unlocked)
Cupcake 1
White Frosting
Chocolate Chips
Mint Shavings
Shamrock, Cloudberry, Shamrock
Cupcake 2
Violet Frosting (Pink if not unlocked)
Strawberry Drizzle
Pistachio Drizzle
Creameo Bits
Chocolate Coin, Nutty Butter Cup, Chocolate Coin
Ad blocker interference detected!
Wikia is a free-to-use site that makes money from advertising. We have a modified experience for viewers using ad blockers

Wikia is not accessible if you've made further modifications. Remove the custom ad blocker rule(s) and the page will load as expected.