| | | |
| --- | --- | --- |
| " | Do not be easily deceived by what do you see. Some things are irreversible and a mistake can instantly ruin the real you. -Martin Animo | " |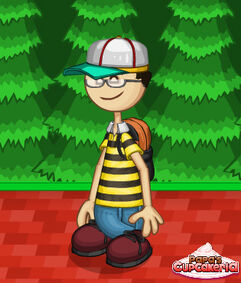 He is a blind kid. In fact, he is not a human. He now has a job on the age 7 (due to he finished school at age 6).He is mortal enemies with Vladimir. He is an Animo, the smartest lifeform on the FPLC universe.
Orders
Pizza:
plain pizza
cooked for 15 minutes
sliced into 16
Burger:
bottom bun
medium patty
lettuce
lettuce
top bun
HD and To Go!:
bottom bun
bacon
bacon
lettuce
lettuce
top bun
Taco:
chicken
soft shell
lettuce
verde sauce
Sundae:
small cup
pineapple
banana syrup
chunky
regular whipped cream
3 bananas
Pancakes:
3 french toasts
cinnamon
6 bananas
Wings:
8 wild onion boneless wings
8 celery
Hotdogs:
pretzel bun
veggie dog
relish
3 tomato wedges
pickle

large Diet Fizzo
large Kettle Corn
Cupcakes:
Liner D
Carrot Cake

Forest Green frosting
Green frosting

Pistachio Drizzle (no drizzle on other holidays)
History
He is an Animo from the planet Dianimolanda. But then, the Calisadins has attacked the planet and his parents decided to send him (he is still a baby that time) into Earth. There, the humans helped him survive, until he met Vladimir. At first, everything was normal then, when he attended one of his magic shows, he knew that he is a Calisadin. He also suspect him on the dead children that are last found alive on Vlad's magic show.
Ad blocker interference detected!
Wikia is a free-to-use site that makes money from advertising. We have a modified experience for viewers using ad blockers

Wikia is not accessible if you've made further modifications. Remove the custom ad blocker rule(s) and the page will load as expected.