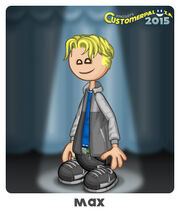 Max is a male character who first appeared in Papa's Donuteria. He attends Ringo Wells School.
Bio
Max can range from being funny to annoying. He seems to have a unique personality that can go out of control. He annoys the living crap out of Carolina and Deborah. Carolina is known for beating up Max. Deborah like to put spiders in his backpack.
Ad blocker interference detected!
Wikia is a free-to-use site that makes money from advertising. We have a modified experience for viewers using ad blockers

Wikia is not accessible if you've made further modifications. Remove the custom ad blocker rule(s) and the page will load as expected.