Just What do you Think You're Doing,

User

?
This is property of Doremy. Please Do Not Edit Unless you got Specific Permission. However, you may edit Grammar Mistakes and Other Minor Edits.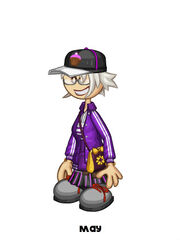 May is an old lady who lives with her husband
Vinny
in Burgerburgh. She first appeared in Papa's Burgeria. She is good friends with Edna, but for some reason she HATES Olga. She is always happy and  will NEVER become a closer or be absent. Her favorite color is purple. She won Olympic Silver for curling
Orders
Burgeria: Bun, Lettuce, Cheese, Pickle, Medium Burger, Pickle, Cheese, Lettuce, Bun
Taco Mia: Pita, Chicken, Lettuce, Hot Sauce, Mystery Loco Sauce, Tomatoes
Freezeria: Large Cup, Cookie Dough, Vanilla Syrup, Smooth Blend, Chocholate Cream, 3 cherries, 3 bananas
Pancakeria, pecan pancake, honey, rasperries, pancake, blueberry syrup, blueberries, Small Decaf, Sugar
Wingeria: 6 spicy garlic shrimps, 6 green peppers, 3 kung pao dips
HotDoggeria: Pumpernickel Roll, Keilbasa, Ketchup, relish, salsa, pickles, 3 sport peppers
Cupcakeria: BOTH CUPCAKES: 2nd Liner, Carrot Cake, Teal Frosting (Violet for the second) Chocholate chips, assorted holiday drizzles, 3 cherries
Pastaria: Ravioli, Marinara, 5 chickens, 4 meatballs, Cheesy Bread
Donuteria: Soon
Doremy Sweet

's FCs
Major FCs
(Click to Expand/Hide)
Minor FCs
(Click to Expand/Hide)
Touhou FCs
(Click to Expand/Hide)
Ad blocker interference detected!
Wikia is a free-to-use site that makes money from advertising. We have a modified experience for viewers using ad blockers

Wikia is not accessible if you've made further modifications. Remove the custom ad blocker rule(s) and the page will load as expected.