Just What do you Think You're Doing,

User

?
This is property of Doremy. Please Do Not Edit Unless you got Specific Permission. However, you may edit Grammar Mistakes and Other Minor Edits.
Melissa is a girl from Maple Mountains. She works at the Hot Doggeria. Her BFF is
Iman
. She does random things like Iman :P. She is a heavy eater, but never gets fat. She won the Papa's Hot Doggeria Hot Dog Eating Contest 2015, barely beating Kenji.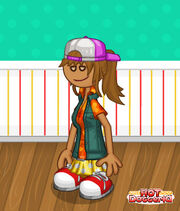 Orders :)
Pancakeria: Bacon waffle, rasperries, 4 blueberry toasts, blueberries, Large Milk with Cocoa
Wingeria: 6 BBQ Boneless, 6 Medium Wings, 4 ranch dips
HotDoggeria: Hoagie Roll, Keilbasa, Ballpark Mustard, chili, cheese, ketchup, bacon, Large Dr, Cherry, Large Chocholate Corn
Cupcakeria: Blueberry Cake, Pink Frosting, creameo bits, marshamllow, cherry, cherry, Chocholate Frosting, coconut shavings, rainbow sprinkles
Doremy Sweet

's FCs
Major FCs
(Click to Expand/Hide)
Minor FCs
(Click to Expand/Hide)
Touhou FCs
(Click to Expand/Hide)
Ad blocker interference detected!
Wikia is a free-to-use site that makes money from advertising. We have a modified experience for viewers using ad blockers

Wikia is not accessible if you've made further modifications. Remove the custom ad blocker rule(s) and the page will load as expected.