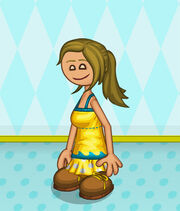 Mia is a woman who lives in Calypso Island, she first appeared in Papa's Freezeria.
Bio
Mia is a lady who spends most of her time relaxing in the sun. She is one of Kahuna's finest helpers, often assisting him in painting the sunboards. She is also a professional surfer and has done modelling. She opened the International Place of Flapjacks.
Orders
Freezeria: Small Smooth Banana and Pineapple Sundae with Whipped Cream, Blueberry Syrup and 3 Bananas.
Pancakeria: 3 Blueberry Waffles with Raspberries *2nd Waffle* and 5 Bananas *3rd Waffle*. Large OJ with Ice.
Wingeria: 5 Calypso Shrimp, 5 Celery Sticks and 3 Kung Pao Dips.
Hot Doggeria: Chicago Bun, Veggie Dog, Relish, Pineapple Relish, Small Diet Fizzo w/ Small Red Hot Popcorn.
Cupcakeria: Liner A, Lemon Cake, Sunglow Syrup, Creameo Bits, 3 Cherries (Both the same).
Pastaria: Normal Ravioli, Marinara Sauce, Italian Seasoning, 3 Prosciutto, Garlic Bread Stick.
Donuteria: Red Velvet French Cruller Donuts.
Donut 1: Clear Glaze, Creameo Bits, Vanilla Syrup.
Donut 2: Sky Blue Icing, Strawberry Syrup.
Donut 3: Powdered Sugar, Blueberry Custard, Cosmic Coconut. 
Trivia
Mia is absent during both Autumn and Winter.
Mia is based off of a fictional character made by Nintendo, from Wii Sports Resort, Wii Party and shown with Miyamoto in a screenshot in Tomodachi Life.
Her favourite season is Summer Luau.
Ad blocker interference detected!
Wikia is a free-to-use site that makes money from advertising. We have a modified experience for viewers using ad blockers

Wikia is not accessible if you've made further modifications. Remove the custom ad blocker rule(s) and the page will load as expected.