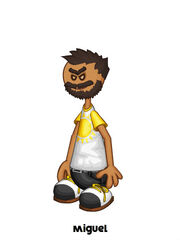 Miguel is a former closer, and first appeared in Taco Mia. His favorite holiday is Baseball Season.
Orders
Taco Mia (closer): Pita, Beef, Fajita Veggies.
Freezeria: (not closer, but same closer look) S, Marshmallows, Mint, Smooth, Whip Cream, x6 Gummy Onions.
Pancakeria: ABSENT
Wingeria: x12 Parmesan Strips, x24 Red Peppers, x4 Ranch Dips
Hotdoggeria: Pumpernickel Roll,Hot Dog, Relish, 2 Tomato Wedges, 1 Pepper, Bacon, Pickle, Bacon. S Dr Cherry w/ S Candy Jack.
Cupcakeria: Liner B, Confetti Cake, Teal Frosting, Butterscoth Drizzle, Pretzel Bat. 2nd: Same, but with Crushed Peanuts and Creameo Bits.
Pastaria: Penne, Rocket Ragu, Italian Seasoning, x1 Provolone Star, Garlic Bread
Donuteria:

Blueberry Pon de Ring, Hakuto Jelly, Clear Glaze, Matcha Drizzle
Red Velvet Pon de Ring, Hakuto Jelly, Red Icing, Matcha Drizzle
Pumpkin Roll, Hakuto Jelly, Azuki Icing, Raspberry Bark
Ad blocker interference detected!
Wikia is a free-to-use site that makes money from advertising. We have a modified experience for viewers using ad blockers

Wikia is not accessible if you've made further modifications. Remove the custom ad blocker rule(s) and the page will load as expected.