Just What do you Think You're Doing,

User

?
This is property of Doremy. Please Do Not Edit Unless you got Specific Permission. However, you may edit Grammar Mistakes and Other Minor Edits.
Mike is a
Satori
who can read minds. However, nobody knows it. He first appears in Papa's Pizzeria. His favorite holiday is Christmas.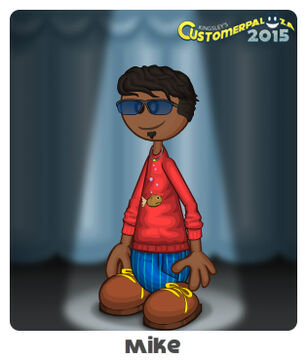 Bio
Mike is a satori who wants to act like a normal person. He doesn't really use the ability anymore, because he read someone's mind, and it was...disturbing. He now only reads minds of his friends if he's bored.
Orders
Pizzeria: 8 Onions, 8 Mushrooms, Medium, Cut in Squares
Burgeria: Bottom Bun, Mustard, Medium Patty, Onion, Medium Patty, BBQ Sauce, Lettuce, Top Bun
Taco Mia: Hard Taco, Pork, Cheese, Brown Rice, Pinto Beans, Mild Sauce, Guacomole
Freezeria: Small Cup, Cookie Dough, Vanilla Syrup, Smooth Blend, Chocolate Whipped Cream, Butterscotch Topping, Chocolate Chips, Mint Shavings, Gummy Onion, Gummy Onion, Cherry
Pancakeria: Pecan Pancake (3x), Honey, Raspberries, 4 Butter, 1 Banana, Small Tea With Ice
Wingeria: 8 Red Peppers, 8 Medium Shrimp, Awesome Sauce, Zesty Pesto Dip
Hot Doggeria: Hoagie Roll, It. Sausage, Onions, Fajita Peppers, Wild Onion Sauce, 3 Sport Peppers, Medium Lemon Mist, Small Cinnamon Swirl
Cupcakeria: Liner D, Strawberry Cake, Cupcake 1: Orange Frosting, Chocolate Icing (Santa Cookie Drizzle), Lollipop Bits, 3 Nutty Butter Cups (Tree Cookies), Cupcake 2: Forest Green Frosting, Coconut Shavings, Rock Candy (Crushed Candy Canes), Cloudberry (Candy Present)
Pastaria: Penne, Creamy Alfredo (Roasted Romana), 5 Clams, 2 Fried Calamari (Basil Leaves), 2 Sausage, Crescent Roll
Donuteria: Donut 1: Vanilla French Cruller (Tree), Powdered Sugar, Creameo Bits, Strawberry Drizzle (Candy Drizzle), Donut 2: Vanilla Ring (Tree), Sky Blue Icing (Festive Swirl Icing), Crushed Peanuts (Snowflake Sprinkles), Donut 3: Chocolate Roll (Tree), Clear Glaze, Lemon Chiffon (Cherry Cordials), Banana Drizzle, Mini-Marshmallows
Cheeseria: Sourdough Bread, Havarti Cheese (Ginger Spice Cheese), Mushrooms, Balsamic Dressing (Cranberry Chuteny), Jalapenos, Shredded Lettuce, French Fries with Bacobites and Nacho Cheese
Doremy Sweet

's FCs
Major FCs
(Click to Expand/Hide)
Minor FCs
(Click to Expand/Hide)
Touhou FCs
(Click to Expand/Hide)
Ad blocker interference detected!
Wikia is a free-to-use site that makes money from advertising. We have a modified experience for viewers using ad blockers

Wikia is not accessible if you've made further modifications. Remove the custom ad blocker rule(s) and the page will load as expected.