Millie is a former closer who appeared in Papa's Pancakeria. She was a lawyer until she came unpopular with her job. She currently has no occupation. Millie and Quinn were childhood friends, but they became enemies after Hot Doggeria was opened. Her job was located in Tacodale, but she's seen that most of people hated her and she didn't helped anyone that well at that time. Quinn kept a secret to Millie and tells everyone that she was a bad person, but she lied. Millie despies Quinn and they fought with each other and then everyone hates her. She had angry eyes at her closer times. She changed her eyes to normal eyes since he quit her job and being fine with some customers. She becomes a normal customer from Cupcakeria. Her favorite holiday is Starlight Jubilee.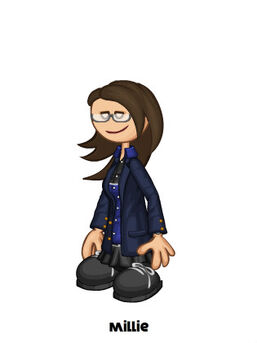 Orders
Pancakeria: 2 Pancakes with blueberry mix, cinnamon, blueberry syrup. Coffee in Small Cup with Ice.
Wingeria: 4 Wasabi Strips everywhere, 8 carrots everywhere. Mango Chili Dip.
Hot Doggeria: chicago bun, veggie dog, hot sauce, cheese, salsa, mayo.
Cupcakeria: Liner A, Blueberry Cake.

Cupcake 1: Violet Frosting, Powsicle Drizzle, Creameo Bits, Rock Candy, 3 White Chocolate Stars.
Cupcake 2: Teal Frosting, Vanilla Drizzle, Coconut Shavings, Rock Candy, 3 White Chocolate S
Ad blocker interference detected!
Wikia is a free-to-use site that makes money from advertising. We have a modified experience for viewers using ad blockers

Wikia is not accessible if you've made further modifications. Remove the custom ad blocker rule(s) and the page will load as expected.