Morgan is the brother of Pablo and Drake. He is unlocked in the same holiday as Pablo: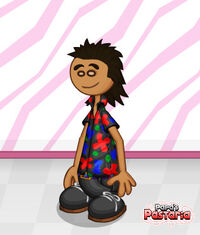 New Year. He debuts in Pastaria.
Orders
Regular:

Al-dente Bowtie
Garlic Basil
Mozzarella
Italian Seasoning
x4 Green Peppers (if not, more prosciutto)
x5 Prosciuttos
Pepperoni Bread (Poppyseed Roll)

New Year:

Al-dente Rainbow Gramigna
Garlic Basil
Rainbow Peppercorn
Grated Cheese
x4 Cheese Cubes
x4 Prosciutto
Crescent Roll
Ad blocker interference detected!
Wikia is a free-to-use site that makes money from advertising. We have a modified experience for viewers using ad blockers

Wikia is not accessible if you've made further modifications. Remove the custom ad blocker rule(s) and the page will load as expected.