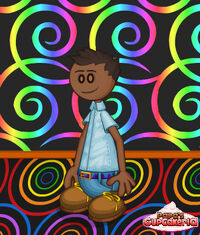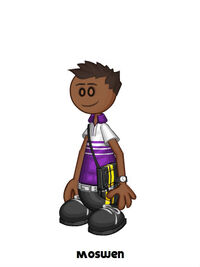 Moswen is Luis' adopted african child. He's 14.
Orders
Hot Doggeria: Pumpernickel Roll, Cheddarwurst, Kethcup, Salsa, Relish, Marinara, Bacon. M Dr Cherry, S Cotton Puffs.
Cupcakeria: Liner A, Red Velvet.1st: Sunglow Frosting, Chocolate Chips, Chocolate Drizzle, Creameo Bits, x2 Gingerbread Mans, x1 Candy Present.

2nd: Deep Purple Frosting, Santa Cookie Drizzle, Crushed Candy Cane, Chocolate Chips, x1 Tree Cookie.

Pastaria:

Cloveroni, Beefy Bolognesa, Lucky Dust, x3 Prosciutto

Donuteria:

Pumpkin Pon de Ring, Azuki Icing, Matcha Drizzle, Boba Bubbles
Blueberry Roll, Hakuto Jelly, Clear Glaze, Dreamsicle Drizzle
Pumpkin Pon de Ring, Azuki Icing, Dreamsicle Drizzle, Boba Bubbles
Trivia
If Luis Comes, he always comes after him.
Ad blocker interference detected!
Wikia is a free-to-use site that makes money from advertising. We have a modified experience for viewers using ad blockers

Wikia is not accessible if you've made further modifications. Remove the custom ad blocker rule(s) and the page will load as expected.