WARNING!
This page is made by XxBlazingDragonxX. Do not edit without permission.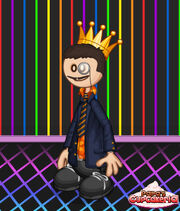 Mr. Gold is one of Tastyville's richer population who owns mansions in each of the cities of Tastyville. He has a huge history with Captain Blacktooth. (Visit the movie, Trouble at Sea! for more information) Mr. Gold gives 75% of his money to charity. His biggest Mansion is in Starlight city. His debut was in Wingeria and he has small orders. He is absent in Cupcakeria due to buisness issues.
Orders
Papa's Wingeria
3 Buffalo Wings
Ranch Dip
Papa's Hot Doggeria
Kielbasa
Chicago Bun
Papa's Ballpark Mustard
Bacon
Medium Root Beer
Small Cheddar Corn
Ad blocker interference detected!
Wikia is a free-to-use site that makes money from advertising. We have a modified experience for viewers using ad blockers

Wikia is not accessible if you've made further modifications. Remove the custom ad blocker rule(s) and the page will load as expected.