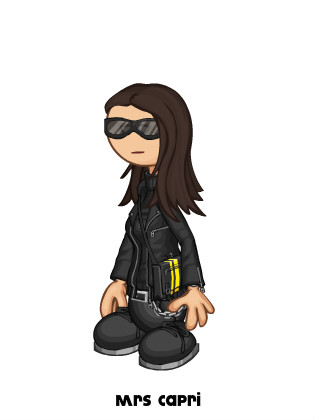 She is Mr. Capri's wife. She is a chain-smasher (meaning she "breaks" the chain on a chain letter). She doesnt have time to visit, so she is a closer.
Orders
Taco:
soft (hard if locked)
beef
lettuce
hot sauce (mild if locked)
peppers (none if locked)
Sundae:
medium cup
creameo bits (cookie dough if locked)
vanilla syrup
regular blend
regular whipped cream
peanuts
creameo, creameo, creameo
Pancake:
4 pecan waffles (pancakes if locked)
maple syrup
raspberries
Wings:
6 calypso strips (wings if locked)
6 french fries (carrots if locked)
awesome sauce dip (none if locked)
Hotdog:
ABSENT
ABSENT
ABSENT
ABSENT
Cupcake:
ABSENT
ABSENT
ABSENT
ABSENT
History
She was once a normal girl. Until, a Calvino has gave her the keys to the Cyberspace. From now on, she was derping for long hours on the computer, until she met Francis (it was Mr. Capri's real name) from a blog post. At the moment, they met, and she planned to call the police (due to Mr. Capri was a missing person) but he destroyed it and told her that his location should be a secret. He has taught her about adventure and action. They became married after all.
Ad blocker interference detected!
Wikia is a free-to-use site that makes money from advertising. We have a modified experience for viewers using ad blockers

Wikia is not accessible if you've made further modifications. Remove the custom ad blocker rule(s) and the page will load as expected.