Just What do you Think You're Doing,

User

?
This is property of Doremy. Please Do Not Edit Unless you got Specific Permission. However, you may edit Grammar Mistakes and Other Minor Edits.
Naomi is a worker of the
The Fizzo Soda and Popcorn Company
with
Luis
,
Matthew
,
Tennyr
and
Jeffery
. She is the Assistant to Jeffery. Her favorite Holidays are New Year (Cupcakeria/Pastaria/Donuteria), and Cinco De Mayo (Cheeseria)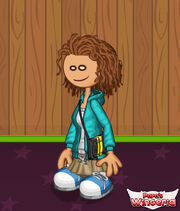 Orders
Pizzeria: 6 Mushrooms, 6 Olives, Cooked for 3.5 Cut In 4ths
Burgeria: Bun, Lettuce, Rare Patty, Lettuce, Rare patty, Ketchup, Bun
Taco Mia: Pita, Steak, Verde Sauce, Lettuce, Peppers, Sour Cream
Freezeria: L Strwberry w/ Blueberries, Smooth, Choco Whip Cream, Blueberry Syrup, Sprinkles,Strawberry Syrup, Banana.
Pancakeria: French Toast, Butter, Bacon French Toast, Blueberries, Strawberry. L Coffe w/ Cream
Wingeria: 6 Teriyaki Wings, 3 Wasabi Boneless, Kung Pao Dip
Hotdoggeria: Pretzel Bun, Hot Dog, Fajita Veggies, Fajita Vegies, Mustard, Mild Sauce, 1 Tomato at Middle, Pickle, L Diet Fizzo, M Cinnamon Swirl.
Cupcakeria: Liner C, Blueberry Cake, Cupcake 1: Violet Frosting, Creameo Bits, Chocolate Chips ('Stache Sprinkles), Cloudberry (Candle), Cupcake 2: Deep Purple Frosting, Strawberry Drizzle (Flavor X Drizzle), Creameo Bits, Chocolate Drizzle (Flavor X Drizzle), 3 Cherries
Pastaria: Spaghetti, Three Cheese Sauce (Midnight Marsala), Crushida Pepper, 3 Green Peppers, 3 Mushrooms, 3 Meatballs (Cheese Cubes), Garlic Breadstick
Donuteria: Donut 1: Pumpkin Long John (Infinity), Powdered Sugar, Creameo Bits, Creameo Bits, Donut 2: Chocolate Long John (Infinity), Chocolate Icing, Strawberry Jelly, Chocolate Drizzle (Flavor X Drizzle), Chocolate Chips (Countdown Crunch), Donut 3: Pumpkin Long John (Infinity), Red Icing, Cookie Dough Filling, Strawberry Drizzle (Creameo Drizzle)
Cheeseria: Rosemary Foccacia, Swiss Cheese (Oaxaca Cheese), BBQ Sauce, Shredded Lettuce, Sauteed Onions, Corned Beef (Chorizo Sausage), Crinkle Cut Fries with Rosemary
Doremy Sweet

's FCs
Major FCs
(Click to Expand/Hide)
Minor FCs
(Click to Expand/Hide)
Touhou FCs
(Click to Expand/Hide)