"Please do not mess with this page. It might disrupt the Dawn of time'"
This belongs to Dawniee. "Umm... could you please.. not touch this page... maybe... You may be warned or banned if you make unpermitted major edits.

I kindly ask that you not use any of my FC's unless you have my permission to do so.
Nico
[[|250px]]


Nico as he appears since Pastaria - present

Family

Occupation

11th Grade Student at Tacodale High

Appearences

Papa's Pizzeria
Papa's Burgeria
Papa's Taco Mia!
Papa's Freezeria
Papa's Pancakeria
Papa's Burgeria HD
Papa's Wingeria
Papa's Hot Doggeria
Papa's Burgeria To Go!
Papa's Cupcakeria

Additude as a Customer

Normal

Favorite Foods

Ketchup, Cheese, Chocolate

Favorite Colors

Blue, Red, Yellow
Nico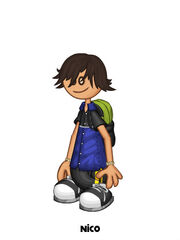 Alexander Garcia is a customer. He made his debut from Papa's Pizzeria, and he is based off of
Matthew's
real life older brother, though, in-game, he is his cousin. His cousins, are
Matthew
,
Amber
,
Tennyr
,
Auburn
, 
Zahra,
and
Daisy
. His favorite holidays are the Summer Luau (Cupcakeria, Cupcakeria HD), Neptune's Feast (Pastaria), Big Top Carnival (Donuteria), Cinco De Mayo (Cheeseria, Cupcakeria To Go!, Sushiria), and New Year (Taco Mia HD)
Orders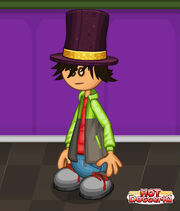 Pizzeria
Plain Pizza
Cooked for 10 minutes
cut into 8ths
Burgeria
Top Bun
Onion
Tomato
Ketchup
Lettuce
Cheese
Well Done Patty
Bottom Bun
Taco Mia!
Onions
Tomatoes
Hot Sauce
Freezeria (HD) *To Go!*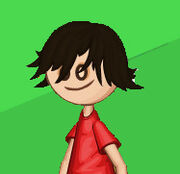 Large Cup
Blueberries (Fudge Brownie) *S'mores*
Chocolate Syrup
Chunky Blend
Chocolate Mousse
Chocolate Topping
(Wildberry Derps)
Sprinkles
Creameo *Gummy Worm*, Creameo, Cherry *Gummy Worm*
Pancakeria
Pancake + Blueberry Mix
Pancake + Blueberry Mix
Pancake + Blueberry Mix
Maple Syrup
Blueberries
4x Butter
Orange Juice, L, Ice
Burgeria HD and To Go
Top Bun
Bacon
Ketchup
Tomato
Jalepenos
Ketchup
Lettuce
American Cheese
Well Done Patty
Bottom Bun
Wingeria
2 Barbeque Wings
2 Buffalo Boneless Wings
2 Celery
2 Carrots
Ranch Dip
Hot Doggeria
Regular Bun
Hot Dog
Ketchup
Onions
Cheese
Relish
Large Lemon Mist, Large Buttered Popcorn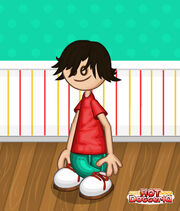 Cupcakeria
Liner B 
Chocolate Batter (Seafoam)

Cupcake 1

Chocolate Frosting
Rainbow Sprinkles (Tropical Charms)
Chocolate Drizzle
Nutty Butter Cup (Gummy Pineapple)

Cupcake 2

Chocolate Frosting (Tropical Charms)
Chocolate Chips
Marshmallow
Pastaria
Spaghetti (Crab Mezzulene)
Beefy Bolognese (Papa's Mariana)
Parmesan Cheese (Creole Rub)
5x Meatball
Cheese Bread
Donuteria
Donut 1

Blueberry
Ring
Red Icing
Blueberry Custard
Mini-Mallows

Donut 2

Regular
Ring (Bearclaw)
Chocolate Icing
Chocolate Mousse
Rainbow Sprinkles

Donut 3

Regular
Ring
Chocolate Icing
Rainbow Sprinkles (Candy Jack)
Strawberry Drizzle (Caramel Apple)
Cheeseria
White Bread (Tortilla)
Shredded Cheddar
Bacon
Tomato (Chorizo Sausage)
Ketchup 
(Guacamole)
Medium

Curly Fries
Ketchup
Bacon

or Cheesy BLT
Cupcakeria To Go!
Cupcake 1

Liner B
Chocolate Cake
Chocolate Frosting
Chocolate Drizzle (Cocoa Chipotle Drizzle)
Marshmallows (Sombrero)

Cupcake 2

Liner B
Chocolate Cake
Dark Blue Frosting
Vanilla Drizzle
(Cinco Swirls)
Rock Candy
Cloudberry (Sombrero)
Bakeria
Chocolate Crust
1/2 Fudge, 1/2 Blueberry
Lattice Top
Chocolate Mousse, Outer Ring
Chocolate Shavings, Full Pie
Cherries, 5, Inner and Middle Ring
Taco Mia HD
Soft Shell
Chicken (Chorizo)
Lettuce (Diced Habañeros)
Sour Cream (Atomic Sauce)
Hot Sauce
Cheese
Jalepeños

Blue Corn Chips
Salsa Picante
Sushiria
White Rice
Nori Seaweed (Tortilla)

Wagyu (Chorizo)
Avocado
Shrimp Tempura

Sriracha (Nacho Cheese)
Sesame Seeds

Chocolate Tea
Cotton Candy Bubbles
Dawn14

's FCs
Major FCs (Click to Expand/Hide)
Major FCs (Click to Expand/Hide)
Normal FCs (Click to Expand/Hide)
Minor FCs
(Click to Expand/Hide)