"Please do not mess with this page. It might disrupt the Dawn of time'"
This belongs to Dawniee. "Umm... could you please.. not touch this page... maybe... You may be warned or banned if you make unpermitted major edits.

I kindly ask that you not use any of my FC's unless you have my permission to do so.
 Nicolas Garcia is part of the Tate Family (that is his brother in law's last name) , he made his debut in Papa's Pizzeria. He is based on
User:Da
wn14
's dad. His favorite holidays are Baseball Season (Cupcakeria), Summer Luau (Pastaria), Thanksgiving (Donuteria, Cheeseria, Bakeria), Comet Con (Cupcakeria To Go!), and Sugarplex Moviefest (Cupcakeria HD). His son is
Nico
, his ex-wife is
Fevi
, and his current wife is
Liliana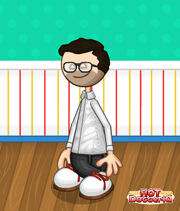 Orders
Pizzeria
Burgeria
Top Bun
Pickle
Medium Patty
Lettuce
Bottom Bun
American Cheese
Medium Patty
Lettuce
Bottom Bun
Taco Mia
Soft Shell
Steak
Lettuce
Sour Cream
Cheese
Tomato
Hot Sauce
Freezeria
Medium Cup
Blueberries
Banana Syrup
Smooth Blend
Whipped Cream
Chocolate Chips
Banana, Banana, Banana
Pancakeria
Pancake + Chocolate Chip Mix
Pancake + Chocolate Chip Mix
Maple Syrup
Honey
Blueberries
Coffee, L, Cream
Wingeria
8 Teriyaki Strips
8 Celery
Ranch Dip, Blue Cheese Dip, Ranch Dip
Hot Doggeria
Pumpernickel Roll
Cheddarwurst
Relish
Cheese
Ketchup
Mayo
Small Dr. Cherry, Small Cotton Puffs
Cupcakeria (Symmetrical)
Liner B
Carrot Cake
White Frosting
Rock Candy
Vanilla Drizzle
Popcorn, Cherry, Pretzel Bat
Pastaria
Spaghetti
Al Dente
Papa's Mariana (Pineapple Pancetta)
Parmesan Cheese
Italian Seasoning
6x Meatball
(4x Glazed Ham)
Crescent Roll
Donuteria (All Symemetrical)
Regular
Long John
Boston Creme (Pumpkin Pie Drizzle)
Chocolate Icing (Cocoa Powder)
Vanilla Drizzle 
Rainbow Sprinkles (Autumn Leave Sprinkles)
Cheeseria
Sourdough Bread (Pumpkin Bread)
Shredded Cheddar
Philly Steak
Lobster Chunks (Stuffing)
Mustard
Well-Done

Sweet Potato Wedges
Sour Cream
Chives
Cupcakeria To Go! (Symmetrical)
Liner D
Carrot Cake
White Frosting
Apricot Drizzle (Hyper Green Drizzle)
Rock Candy
Cherry (Astronaut Ice Cream)
Cupcakeria HD (Symmetrical)
Liner D
Carrot Cake (Root Beer Float)
White Frosting
Apricot Drizzle
Rock Candy (Raisin Duds)
Cherry (Popcorn)
Bakeria
Ladyfingers Crust
1/4 Cherry, 1/4 Pineapple, 1/4 Cherry, 1/4 Pineapple (4/4 Pumpkin)
Struesel (None during Thanksgiving)
Whipped Cream, Outer Ring
Butterscotch Smooches, 9, Outer and Inner Ring (Chocolate Acorns)
Dawn14

's FCs
Major FCs (Click to Expand/Hide)
Major FCs (Click to Expand/Hide)
Normal FCs (Click to Expand/Hide)
Minor FCs
(Click to Expand/Hide)
Ad blocker interference detected!
Wikia is a free-to-use site that makes money from advertising. We have a modified experience for viewers using ad blockers

Wikia is not accessible if you've made further modifications. Remove the custom ad blocker rule(s) and the page will load as expected.