Just What do you Think You're Doing?
This is property of Doremy. Please Do Not Edit Unless you got Specific Permission. However, you may edit Grammar Mistakes and Other Minor Edits.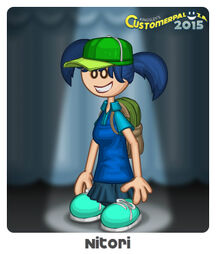 Nitori Kawashiro is a kappa who can control water. She lived in Tastyville, but moved to Portallini to live near the water. She is an engineer and manufactures stuff in Tastyville, from lights to cameras to phones. She also does many experiments and builds many things to try to improve life for people in the Flipverse. She likes cucumbers.
Orders:
Burgeria: Bun, Onion, Pickle, Pickle, Well-Done Patty, Pickle, Bun
Taco Mia: Soft Taco: Steak, tomatoes, sour cream, cheese, peppers
Freezeria: Medium Cup, Blueberries, Chocolate Syrup, Chunky Blend,
Whipped Cream, Tropical Charms, chocholate chips, nuts
Pancakeria: 2 bacon pancakes, 3 butter pads, blueberries, french toast, Large OJ with Ice
Wingeria: 4 wild onion shrimps, 4 green peppers, ranch dip
Hot Doggeria: Chicago Bun, Veggie Dog, ketchup, chili, 2 pickles Small Tangerine Pop, Small Kettle Corn
Cupcakeria: 4th wrapper, Strawberry Cake, Forest Green Frosting, sprinkles
Pastaria: Spaghetti, Marinara Sauce (Chili during chilifest), crushida pepper, mozzarella
Doremy Sweet

's FCs
Major FCs
(Click to Expand/Hide)
Minor FCs
(Click to Expand/Hide)
Touhou FCs
(Click to Expand/Hide)
Ad blocker interference detected!
Wikia is a free-to-use site that makes money from advertising. We have a modified experience for viewers using ad blockers

Wikia is not accessible if you've made further modifications. Remove the custom ad blocker rule(s) and the page will load as expected.