Noel is a girl who works at Georgito's Palace. She is the hostess there.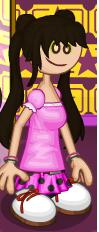 She is a fashonista like Alyssa, Amber, and Lauren. She lives in apartment 1-1. She is never absent. Her favorite Holiday is Valentine's Day. Her BF (boyfriend) is Allan.
Pizza: 9 olives all around, 2 pepperonis all around, 1/2 meter, 6ths
Burger: Bun, Well-Done Patty, BBQ, Mayo, Mustard, Ketchup, Bun
Burger HD: Bun, Medium Patty, Swiss Cheese, Medium Patty, American Cheese, Bacon, Bun
Taco: Soft Taco, Chicken, cheese, loco sauce, hot sauce, lettuce, black beans
Freezeria: Medium Cup, Yum & Ms, Strawberry Syrup, Regular, Chocolate whipped cream, blueberry syrup, chocolate chips, nuts, gummy onion, cookie
Pancakeria: Bacon Waffle, Bacon Pancake, syrup, chocolate chips, sugar, 4 strawberries, Large Milk with Cocoa
Wingeria: 2 Spicy garlic strips, 2 teriyaki shrimp, 2 wild onion boneless, 4 green peppers to the left, mango chili Dip
Hotdoggeria: Hoagie Roll, It. Sausage, marinara sauce, mayo, cheese, pineapple relish, pickle, bacon, Large Diet Fizzo, Medium Candy Jack
Cupcakeria: Strawberry Cake in Liner A, Pink Frosting, Strawberry Drizzle, Sprinkles, 3 Chocolate Strawberries (3 Cherries afterwards)
Ad blocker interference detected!
Wikia is a free-to-use site that makes money from advertising. We have a modified experience for viewers using ad blockers

Wikia is not accessible if you've made further modifications. Remove the custom ad blocker rule(s) and the page will load as expected.